This D&D magic item really has bite! An arrow that turns into a venomous snake after it hits.
Snake Arrow
Weapon (arrow), rare
This arrow is made from a living venomous snake (Basic Rules, pg. 149), frozen straight. You have a +1 bonus to attack and damage rolls made with this magic arrow. Once it hits a target, the snake reanimates and makes a Bite attack.
Bite. Melee Weapon Attack: +5 to hit, reach 5 ft., one target. Hit: 1 piercing damage, and the target must make a DC 10 Constitution saving throw, taking 5 (2d4) poison damage on a failed save, or half as much damage on a successful one.
The venomous snake slithers away after making its Bite attack, but it will defend itself if attacked.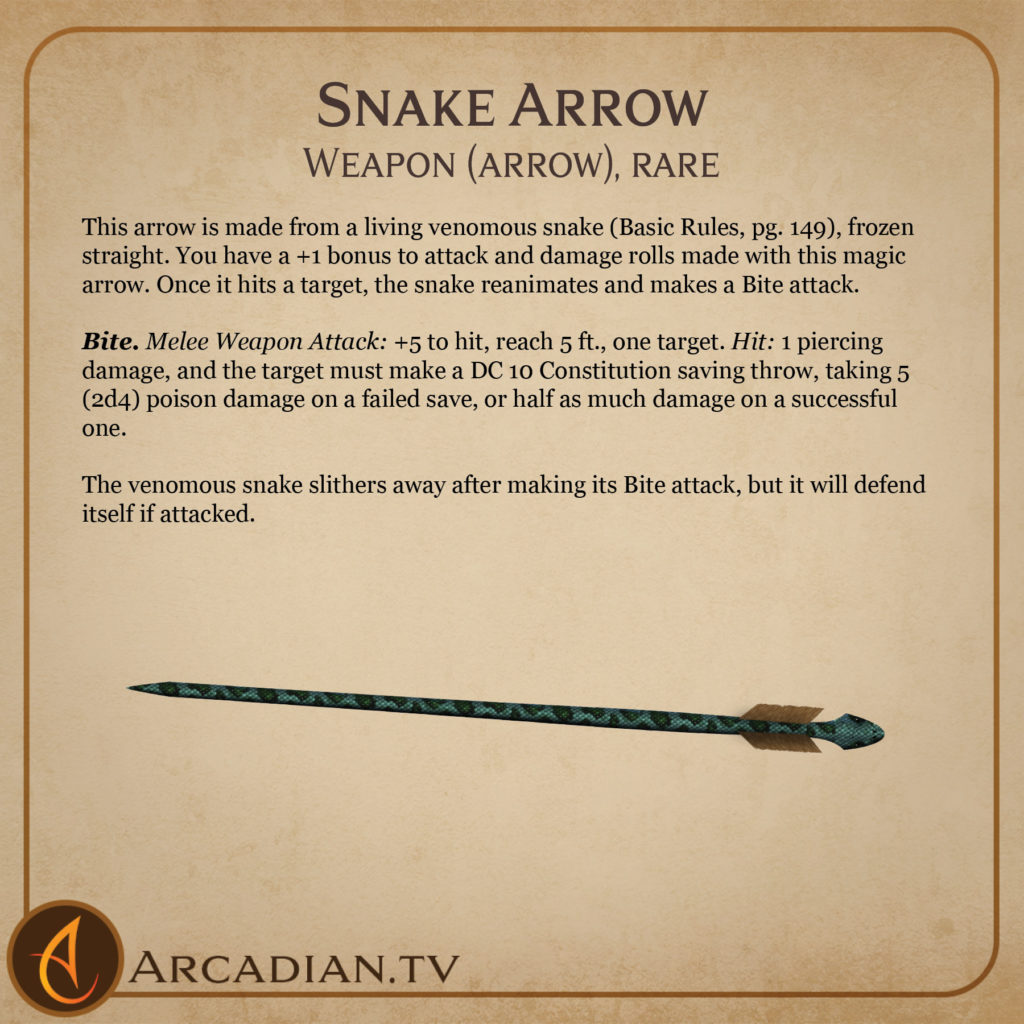 ---
The gnome artificer / druid Geneu Tercer was famous for his unusual creations that turned nature into weapons. His killer bee bombs and venomous snake arrows once helped the people of Fardoth village defeat a clan of invading orcs.
You can choose which venomous snake is used for the magic arrow. Here are ten real life snakes with deadly venom.
Saw-Scaled Viper (Echis Carinatus)
King Cobra (Ophiophagus Hannah)
Inland Taipan (Oxyuranus Microlepidotus)
Blue Krait (Bungarus Candidus)
Black Mamba (Dendroaspis Polylepis)
Tiger Snake (Notechis Scutatus)
Russell's Vipers (Daboia Russelii)
Common Death Adder (Acanthophis Antarcticus)
Mojave Rattlesnake (Crotalus Scutulatus)
Belcher's Sea Snake (Hydrophis Belcheri)
Would you like to see more nature themed D&D magic items and spells? Follow us on Instagram, Facebook, and Twitter and send us your suggestions!
Subscribe for more free homebrew content for Dungeons and Dragons 5th edition and One D&D.
Magic Items
Monsters
Spells
Battle Maps
Dungeon Master Resources
and More!